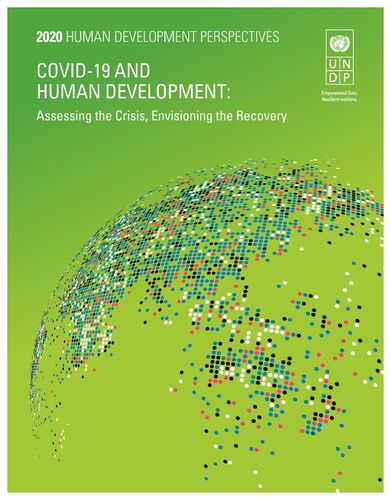 UNDP 2020 Human Development Perspectives book: COVID-19 and Human Development: Assessing the Crisis, Envisioning the Recovery
The COVID-19 (coronavirus) pandemic is unleashing a human development crisis. On some dimensions of human development, conditions today are equivalent to deprivation levels last seen in the mid-1980s. However, the crisis is hitting hard on all of the human development's constitutive elements: income (with the most significant contraction in economic activity since the Great Depression), health (directly causing a death toll over 300,000 and indirectly leading potentially to an additional 6,000 child deaths every day from preventable causes over the next six months), and education (with effective out-of-school rates). The pandemic was superimposed on unresolved tensions between people and technology, between people and the planet, between the haves and the have-nots. These tensions were already shaping a new generation of inequalities— on enhanced capabilities, the new necessities of the 21st century, as defined in the 2019 Human Development Report. This note takes a capabilities approach to document the severity of the unfolding human development crisis.
Read the Book at UN iLibrary here.

During this global pandemic, be sure to get your facts from reliable sources.
UN iLibrary offers the latest reports and policy briefs on COVID-19, bringing together analysis from across the UN system which provides concrete ideas for how to address the consequences and even seize opportunities in the midst of the crisis.
Browse the Complete Collection on COVID-19