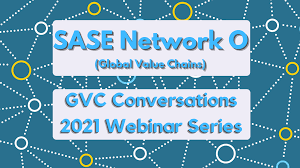 While global value chains (GVCs) are widely recognized as key arteries in the global economy, recent geopolitical shifts, climate change, a global pandemic, and digital transformation are combining to upend long-held assumptions.
This webinar series is meant to be a platform to openly and collectively discuss some of the cutting-edge work on these changes and draw out the implications for economies, workers, and the future of globalization. Talks by several leading authors in the field will start off the conversations, which are meant to engage participants, especially but not only early career, to share their views and ongoing research.
The first webinar is delivered by Gary Gereffi Duke Global Value Chains Center "Impact of Covid-19 on GVCs and Shortages of Medical Supplies"
The second webinar is delivered by Prof. Stephanie Barrientos (Manchester), on "Building Back Equitably: Spotlight on Covid-19 and Women Workers in GVCs".
The third seminar is delivered by Prof. Mark Anner (Penn State) speaking on "Squeezing Suppliers and Workers: The Unequal Distribution of Costs along GVCs during the Covid-19 Pandemic" (25 March).