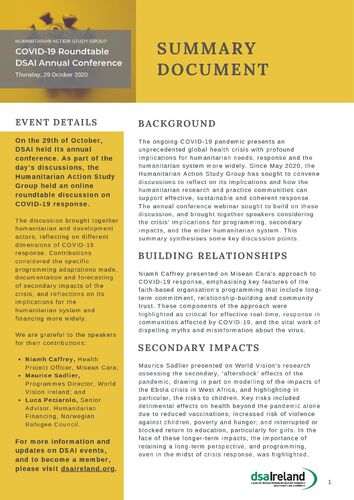 PDF 673.32k
Download Now
This online roundtable discussion on COVID-19 response was held on the 29th of October, as part of the DSAI Annual Conference 2020 and convened by the Humanitarian Action Study Group. The discussion brought together humanitarian and development actors, to reflect on different dimensions of COVID-19 response.
The ongoing COVID-19 pandemic presents an unprecedented global health crisis with profound implications for humanitarian needs, response and the humanitarian system more widely. Since May 2020, the Humanitarian Action Study Group has sought to convene discussions to reflect on its implications and how the humanitarian research and practice communities can support effective, sustainable and coherent response. The annual conference webinar sought to build on these discussion, and brought together speakers considering
the crisis' implications for programming, secondary impacts, and the wider humanitarian system.
Contributions considered the specific programming adaptations made, documentation and forecasting of secondary impacts of the crisis, and reflections on its implications for the humanitarian system and financing more widely.
This document provides a synthesis of some key discussion points.
Contibutors:
Niamh Caffrey, Health Project Officer, Misean Cara;
Maurice Sadlier, Programmes Director, World Vision Ireland;
Luca Peciarolo, Senior Advisor, Humanitarian Financing, Norwegian Refugee Council.