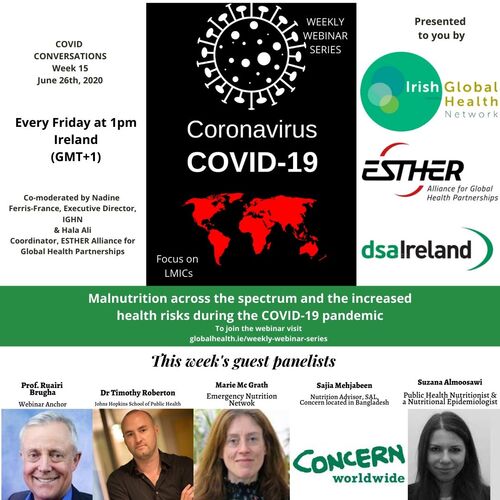 The Irish Global Health Network and Esther Alliance runs a series of Webinars on the COVID 19 Pandemic and this webinar was co-organized with the Nutrition and Health Study Group of Development Studies Association of Ireland (DSAI).
This Webinar provided the opportunity to explore the impacts of malnutrition and the challenges arising from the COVID-19 pandemic. It was delivered by experts in the field including representatives from NGO's and a host of academics, who joined Webinar Anchor, Professor Ruairi Brugha, to provide thought provoking and challenging insights to malnutrition within the COVID-19 pandemic.
Read the Summary Document from the event here.
Watch the webinar recording here.
A slection of references and further reading is available here.