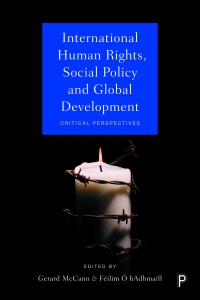 Albie Sachs activist, lawyer and Professor Extraordinaire at the University of Pretoria, former Constitutional Court Judge (South Africa) and National Executive member of the African National Congress Cape Town, January 2020 provides the foreword to the recently published 'International Human Rights, Social Policy and Global Development Critical Perspectives', edited by Gerard McCann and Féilim Ó hAdhmaill.
With international human rights under challenge, the book represents a comprehensive critique that adds a social policy perspective to recent political and legalistic analysis, as expert contributors draw on local and global examples to review constructs of universal rights and their impact on social policy and human welfare. An honest appraisal of both the concepts of international human rights and their realities, the publication will engage those with an interest in social policy, ethics, politics, international relations, civil society organisations and human rights-based approaches to campaigning and policy development.
The foreword 'The battle between concept and understanding' by Albie Sachs is published online here, where you will also find links to the publication itself available in hardcopy and EPUB versions.