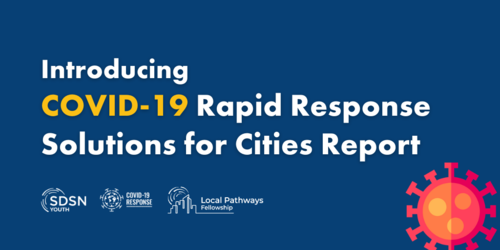 Given the strong impact that COVID-19 has had on cities, the SDSN Youth 2020 cohort of Local Pathways Fellows developed a set of innovative solutions that address the SDG 11 targets which are presented in the report titled "COVID-19 Rapid Response Solutions for Cities by the 2020 Local Pathways Fellows".
Every year the Local Pathways Fellowship welcomes a select group of young innovators from cities around the world and provides them with the tools and resources they need to advance problem-solving for sustainable development at the local level with a special focus on SDG 11. The Local Pathways 2020 cohort is made up of 140 fellows from 100+ different cities.
During the month of May the 2020 cohort of Local Pathways Fellows worked on developing their proposed solutions to address the urban challenges that each SDG 11 target is facing amid the pandemic. These solutions were designed through peer-to-peer engagement between fellows in the program. Each solution was developed by a group of 3-8 fellows from different cities around the globe.
Here you will find more than 20 solutions that tackle challenges ranging from shutdowns or decreased services on mass transit which lays at the core of urban mobility to the issue of sanitation among homeless populations which could greatly increase due to the economical consequences of the pandemic.
This one-of-its-kind report showcases what can be done when youth urbanists from all over the world connect to advance problem-solving for sustainable development and it highlights their potential.
A webinar was held on June 30, 2020 where some of the most innovative solutions were presented.
For more information on the Local Pathways Fellowship program, please visit: http://localpathways.org/
First published on SDSN Youth Website