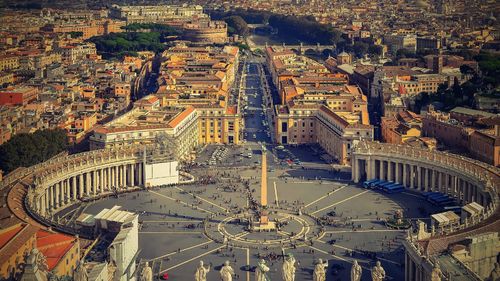 By Prof. Giovanni Farese, Associate Professor of Economic History, European University of Rome
Italy has been badly hit by the coronavirus and has for weeks been at the epi-centre of the global pandemic. After weeks of high levels of deaths, numbers have been going down through early April, constantly though not steadily. This is due to enforced confinement and social distancing measures taken by the government in the month of March under the "Stay Home" campaign (people can only go out to meet their basic needs).
All in all, the country responded well, and the measures taken worked. But for many, it was too late. There has been – and there is still – much grief and anger. The virus is now hitting other countries, including developing ones, and there is much concern about Africa in particular. Here are a few lessons that can be drawn from the early experience of Italy that will prove life-saving.
An early lockdown is critical.
Equipment and preparedness are also essential and this is a problem for many countries already struggling with health care systems. Masks had – and still largely have – to be imported from countries such as Turkey and China and stocks have, on occasion, been "confiscated" by exporting countries trying to meet their own needs. There were also positive examples here, but with geopolitical implications that cannot be overlooked (for instance Russia and China were fast in giving a hand). Moreover, general hospital and public buildings in Italy had to be converted into dedicated hospital. Tests were continually having to be performed and all this took precious time away and vast resources. Many lives were lost. A Government Commissioner was eventually appointed, which could have been a first move. Doctors, nurses and the Civil Protection Agency supported much of the effort. The flow of information was regular, not always coherent, but, all in all, quite effective. But, note that fake news also became part of a larger geopolitical battle around the responsibility and the consequences of the virus.
Italy's GDP is expected to fall about 10-12 per cent in 2020 because of this pandemic.
This means that many firms will go bankrupt and many jobs will be lost. The political scenario might also change, not necessarily for the good, if the social situation deteriorates. Workers in the private sector get a share of their wages under a national protection scheme, which has been strengthened nationally and also at the EU-level. But there are worries about the informal sector that covers at least 15 per cent of Italy's GDP (this is a crucial for Africa, where 80 per cent of the workers are active in the informal sector, according to the International Labor Organization). Important measures have been taken to support firms, and in particular the SMEs which form the bulk of Italy's productive structure. The State, for instance, will guarantee up to 100 per cent of new loans provided by banks. This is key to provide liquidity and navigate through the lockdown. In short, the ultimate burden is on the State and public finances. Note that Italy has limited fiscal space, and a high public debt (but private savings are huge and could be mobilized in some way).
Furthermore, a lot is being done by other non-State actors. The Catholic Church and NGOs have been – and are, day and night – critical in supporting the homeless and those in need in general. Private donors are also playing their part with generosity. As we know, community solidarity is one of Italy's strengths. It is clear, however, that Italy will need much more, including substantial support from the EU, now and for the reconstruction that will follow. This is also clearly in the interest of the EU as a whole.
If Southern Europe collapses, Northern Europe will collapse too. This brings in a more general lesson. This is the first truly global crisis.
The Great Depression of 1929 was not, and even the world wars were not. Pope Francis recently said that "we are all on the same boat". It is crucial to understand that "all" means the human family, while the "boat" is the entire planet. We need good information, good governance, and good international cooperation to get out of this crisis.
About the Author
Giovanni Farese is Associate Professor at Università Europea di Roma, where he teaches History of Economics, History of Economic Thought, History of Development. He is Managing Editor of The Journal of European Economic History and is a Marshall Memorial Fellow of the German Marshall Fund of the United States.
DSAI provides a platform for dialogue for development studies research, policy and practice across multi-disciplinary perspectives. This opinion piece is published as part of DSAI's call for contributions to our COVID resource section; as a space for pooling and sharing knowledge. Content is published with permission of the author. Views expressed are the authors own.