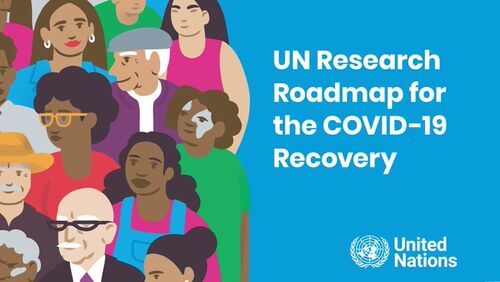 A UN Research Roadmap for the COVID-19 Recovery published on November 17 2020. Developed in just 10 weeks, the Roadmap outlines 25 research priorities for the socio-economic recovery from COVID-19 that will help answer a singularly important question: How can COVID-19 socio-economic recovery efforts be purposefully designed to stimulate equity, resilience, sustainability and progress towards the SDGs?
The Roadmap, available on the UN's COVID-19 Communications Resources page, also provides an overview of science strategies for a better recovery as well as actions that researchers, research funding agencies, governments, civil society organizations and UN entities can take to act upon it.
The Roadmap was delivered with support from partners across the Government of Canada, including the Canada Foundation for Innovation, Global Affairs Canada, Grand Challenges Canada, Health Canada, International Development Research Centre, Natural Sciences & Engineering Research Council, Public Health Agency of Canada, and Social Sciences & Humanities Research Council, as well as from across the UN system, from GloPID-R, from the International Science Council, from 38 research funding agencies that served on five steering groups, and a core Canadian Institutes of Health Research project team.