Robert Chambers Award
Deadline: 12 noon Thursday 10 December 2020
To celebrate the contribution of Professor Robert Chambers to innovation and research for empowerment and sustainable development in the field of development studies, DSA Ireland has established the Robert Chambers Award. The award with a value of €300 will be given to the most innovative paper that has the potential to make a significant contribution to strengthening just and sustainable development for the world's poor.
For an overview of the work of Professor Robert Chambers visit: http://www.ids.ac.uk/person/robertchambers
General Terms and Conditions Eligibility
Authors who wish their papers to be considered for the award must submit their full paper by the 12noon on Thursday 10th December 2020 to admin@dsaireland.org.
The award is open to all registered participants of the annual DSAI conference;
A written paper must be submitted in advance of the oral presentation. Author(s)' details should be submitted separately;
An oral presentation of the paper must be given, except in unforeseen circumstances such as illness;
Submitting a paper for the Robert Chambers Award does not preclude its submission for the DSA Ireland Best Student Paper Award.
Award
The judges must explicitly state how the winning paper meets the criteria of the Robert Chambers Award in spirit and content;
The judges reserve the right not to award the prize, where they unanimously agree that no paper meets the criteria;
The judges' decision is final;
Authors should not make contact with judges in relation to the paper before the prize is awarded. If influence is exerted, the paper will be deemed ineligible for the award.
Judging Panel
Judges are not permitted to submit a paper to be considered for the award;
Papers will be subjected to a triple blind review process;
The panel shall consist of three senior academics with practitioner input.
Winner of Chambers Award 2018
Mairéad Smith for her paper 'The Search for Meaning in Memory in the Aftermath of Genocide: The Construction of Êzîdî Identity'
Mairéad Smith is a Masters graduate of the Centre for Middle Eastern Studies at Lund University, Sweden and a former Erasmus Mundus MARHABA scholarship holder at Koya University in Iraqi Kurdistan. She is currently a Ph.D candidate at Brown University beginning this autumn. Mairéad's research interests are focused on minority rights and the intersection between narrative, collective identity and contestations of the past, particularly in relation to minority groups in the Middle East.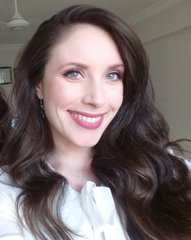 Winner of Chambers Award 2017
Dr. Ibrahim Natil for his paper: International NGOs: Women's Engagement in Community Peace-building and Development
Contact: dr.natil59@gmail.com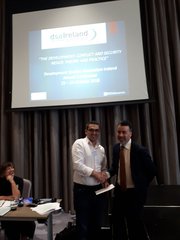 Winner of Chambers Award 2016

2016 Winner of the DSA Ireland, Robert Chamber's Award
Dr. Su-Ming Khoo for her paper "Rethinking development partnerships intellectually: cognitive justice matters"
Contact: suming.khoo@nuigalway.ie
Winner of Chambers Award 2015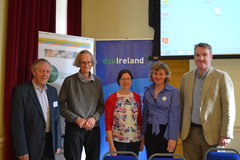 From left: Dr. Sean Farren, Prof. Robert Chambers, Jacinta Greene, Nadine Ferris-France, Dr. Padraig Carmody
2015 Winner of the DSA Ireland, Robert Chamber's Award
Dr. Padraig Carmody for his paper "E-colonisation and the politics of land grabbing in Uganda"
Contact: pcarmody@tcd.ie