Research Methods Summer School 2023
When: 30-31 May 2023
Where: 30 May - Online | 31 May In Person at South East Technological University (SETU) - Carlow Campus
Fee and Registration: Flat fee €20 per participant.
A limited number of fee waivers and other supports may be available through DSAI Study Groups. Please contact admin@dsaireland.org to enquire.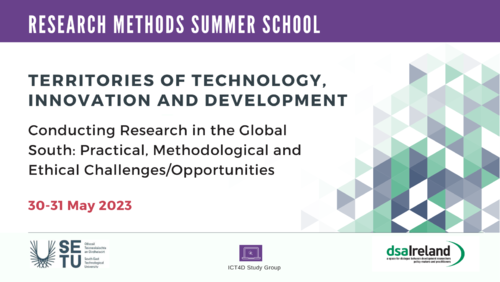 Programme at a Glance
Tuesday 30 May

Online - Talks and Seminars

The day will consist of expert speakers who will talk about planning and conducting research projects in the Global South. As well as the practical difficulties this brings, there will be a discussion on the philosophical and methodological approaches which may be most appropriate. In addition, there will be specific consideration of indigenous and Southern theory, and the socio-cultural appropriateness of using such approaches.

Wednesday 31 May

In Person - Networking and Workshops at SETU Carlow Campus

The day will be in person only and provide an opportunity for researcher networking and workshops on applying the learnings from Day 1 - to create ideas and solutions to common challenges to address the SDGs as well as addressing participant-specific challenges.
Practical Information
Transport
The SETU Carlow Campus is accessible by bus and train. Useful links for main transport operators are below. Please consult operator websites for specific transport times and prices. Prices vary for the bus/train, but it should be possible to get to Dub-Carlow return for under €25.
Campus Map
You can find more information on Carlow Campus location and maps to the Campus on the SETU website here.