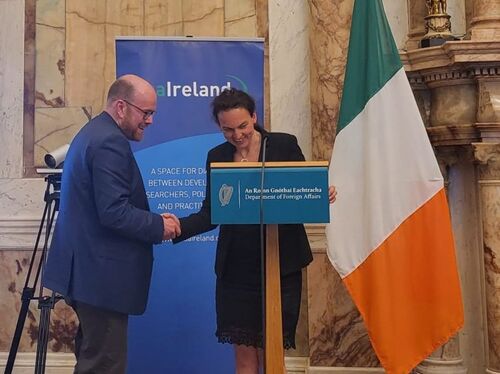 DSA Ireland present awards to joint winners of the Best Student Paper Award and Robert Chambers Awards 2022. Congratulations to all our recipients!
Robert Chambers Awards
The 2022 Robert Chambers Award recipients were Aditi Bhatia-Kalluri for her paper 'Mapping Trends for Sustainable Economic Development in the Global South: E-commerce as an Online Marketplace for Micro-Entrepreneurs in Rural India' and co-authors Dr. Robert Gillanders and Dr Lisa van der Werff, for their paper 'Corruption Experiences and Attitudes to Political, Interpersonal, and Domestic Violence'.
A

diti Bhatia-Kalluri is a Ph.D. Candidate at the Faculty of Information, University of Toronto. Her Ph.D. research examines mobile phone penetration and usage in the Global South, especially financial inclusion and digital payments. The research focuses on how digital policies shape information practices, such as adopting e-banking and e-commerce for marginalized communities. Her research tracks adaptation to mobile phones by auditing everyday user challenges in cashless transactions and finding gaps that lead to information asymmetry. Aditi earned a Master of Digital Media from Toronto Metropolitan University and B.A. Hons in New Media Studies from the University of Toronto.

Dr. Robert Gillanders is an associate professor of economics at DCU Business School. He is the co-founder and co-director of the DCU Anti-corruption Research Centre (ARC). He is Co-Principal Investigator of the IRC funded project "Corruption, Gender, and Sustainable Development" (COGS). He has published extensively on the causes and consequences of corruption in journals including Governance, Social Science & Medicine, Public Choice, the Journal of Economic Behavior and Organisation, the Journal of Development Studies, and Small Business Economics.

Dr Lisa van der Werff is an Associate Professor of Organisational Psychology, Director of Doctoral Studies and Co-Director of the Irish Institute of Digital Business at DCU Business School. Her research focuses on trust and investigates the processes underlying relationships between colleagues, people and organisations and people and technology. Lisa has published her work in a range of academic journals (e.g., Academy of Management Journal, Journal of Management, Organization Science) and practitioner oriented outlets (e.g., Harvard Business Review). She is currently President of FINT (www.fintweb.org), Deputy Editor in Chief of the Journal of Trust Research and was recently admitted to the Young Academy of Ireland in recognition of her research impact.
Best Student Paper Awards

Chythenyen Devika Kulasekaran received a Best Student Paper Award for his paper "'Zeroing In' on 'Zero Emissions' – Analysing the impact of electric vehicles on the United Nations Sustainable Development Goals (UNSDGs)". Chythenyen Devika Kulasekaran is a research associate in the energy team of the Centre for Financial Accountability. He is an International Relations graduate from Dublin City University, with over 12 years of experience in the waste management sector.

Kevin Dowling received an award for his paper "Out of the closet and into the fire: Will the Sustainable Development Goals push SOGIESC minorities behind?" Kevin is an enthusiastic and compassionate development practitioner and researcher with particular interest and experience in social inclusion; gender and sexual minorities; rural transformation; and humanitarian response. Having come from a background in end-of-life healthcare as a radiation therapist, he requalified through Trinity College Dublin's Master's in Development Practice, wherein he was awarded Best Overall Performance 2022 and Best Dissertation 2022. In January 2023, Kevin joined the United Nations' International Fund for Agricultural Development (IFAD) as a gender and social inclusion intern, and he is looking forward to continuous growth and impact thereafter.