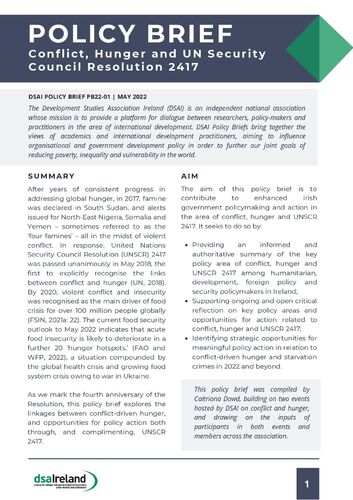 PDF 455.12k
Download Now
After years of consistent progress in addressing global hunger, in 2017, famine was declared in South Sudan, and alerts issued for North-East Nigeria, Somalia and Yemen – sometimes referred to as the 'four famines' – all in the midst of violent conflict. In response, United Nations Security Council Resolution (UNSCR) 2417 was passed unanimously in May 2018, the first to explicitly recognise the links between conflict and hunger (UN, 2018).
However, as of May 2022, 193million people in 53 countries are considered to be in what the Food Security Information Network (FSIN) labels 'Crisis' phase or worse (FSIN, 2022: 6), with conflict and insecurity the main driver.
As we mark the fourth anniversary of the Resolution, this policy brief explores the linkages between conflict-driven hunger, and opportunities for policy action both through, and complimenting, UNSCR 2417.