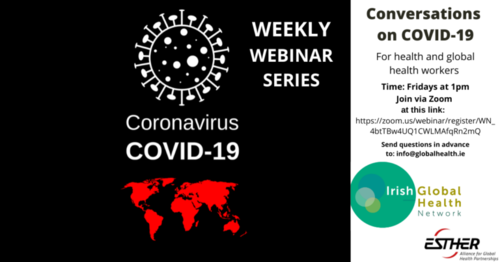 Irish Global Health Network and ESTHER Alliance for Global Health Partnerships
Conversations on COVID-19
TIME: Friday's at 1pm (12pm GMT)
This series of webinars will focus on healthcare professionals and overseas staff working in Global Health in the era of COVID-19. The webinars will be held each Friday hosting experts to discuss several COVID-19 topics relevant to health professionals working in global health.
May 8th - Joint Webinar with DSAI Humanitarian Action Study Group
Leveraging research and evidence to support humanitarian response to COVID-19
On week 8 of the series, DSAI's Humanitarian Action Study Group is pleased to partner with the Irish Global Health Network on a joint event on the topic of leveraging research and evidence to support humanitarian response to COVID-19 as part of their weekly webinar series on COVID-19.
This discussion will focus on a range of issues related to evidence and research needs in the context of COVID-19. Against the backdrop of an unprecedented global pandemic, the discussion seeks to facilitate a rapid mapping of evidence and knowledge gaps among humanitarian responders, and key global and public health research priorities for humanitarian response. The discussion aims to identify preliminary priority areas for further data and evidence-gathering, applying learning, and addressing research gaps in order to support effective, coordinated action across humanitarian research and practice. Our speakers will be invited to address the following key questions:
What are the knowledge and evidence gaps that humanitarian actors need to fill urgently to respond effectively to, and in the context of, COVID-19?
What existing research and practical expertise from past global health crises can be leveraged to improve response and support prevention? and
How can operational organisations design humanitarian responses that integrate public health research priorities from the outset and in a coordinated way?
The Series
Topics over the weeks will include, but not limited to:
Essential preparations for individual work in global health
How to assess the risks related to travel and international meetings
How to collaborate and support your partners
How to protect your staff
Donor related issues
Social inclusion and protection of vulnerable populations
Voices and perspectives from Lower-Middle income countries
Full detail on the webinar series inlcuding links to register / join can be found here on the Irish Global Health Network website.
ABOUT IRISH GLOBAL HEALTH NETWORK
The Irish Global Health Network (IGHN) is an independent network of people from different backgrounds, sectors and disciplines who are concerned with health inequities and issues that impact on the health and development of populations at a global level, with a particular commitment to those living in middle and low- income countries.