Humanitarian Action Study Group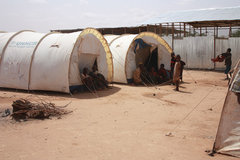 The Humanitarian Action Study Group brings together both scholars and practitioners of humanitarian action to share knowledge, expertise and experience in the areas of humanitarian action, humanitarian intervention, human rights / protection, complex emergencies and the inter-section of development and humanitarian programming. If appropriate, the group will also act as a focal point for networking in support new research initiatives (including applied research) in these areas.
All are welcome. To join this study group, or for further information, please contact the Group Convenor at walt.kilroy@dcu.ie, stating your institution/ngo, area of interest/research and any suggestions for activities.
Convenor: Dr. Walt Kilroy
Convenor
Walt Kilroy
Walt Kilroy is the Associate Director of DCU's Institute for International Conflict Resolution and Reconstruction, and also Assistant Professor at the School of Law and Government. His research interests include development, conflict, and post-war reconstruction, and the interactions between these processes. His teaching has included these topics, as well as international media and reporting. His doctoral thesis was awarded the Basil Chubb Prize for the best PhD in political science (2012) by the Political Studies Association of Ireland and he is coordinator of the EU Erasmus+ funded PESTUGE project. Walt has worked in the Horn of Africa for the development organisation, Trocaire, on conflict and advocacy (2004-06) and in journalism for print, radio, and television, including as Deputy Foreign Editor at the Irish public service broadcaster, RTE where he reported from conflict zones such as Afghanistan and the Balkans.