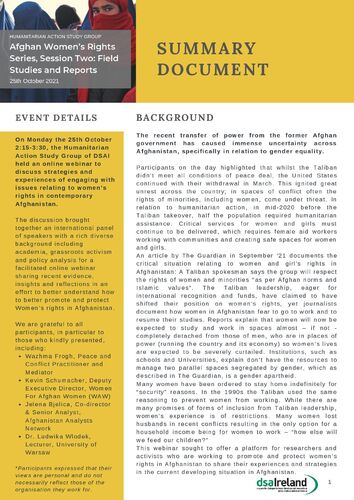 PDF 1.22mb
Download Now
Discussion Document arising from the webinar held on the 25th October 2021; where the Humanitarian Action Study Group welcome an international panel of speakers with a rich diverse background including academia, grassroots activism and policy analysis to discuss strategies and experiences of engaging with women's rights in Afghanistan. This event was the second in a Development Studies Association of Ireland's Afghan Women's Rights Series. The first 'Do Women in Afghanistan Need Saving?' is available for watchback here.
Chair and lead Discussant:
Prof Michael Semple, , Senator George J Mitchell Institute for Global Peace, Security and Justice
Speakers:
Wazhma Frogh, Peace and Conflict Practitioner and Mediator
Kevin Schumacher, Deputy Executive Director, Women For Afghan Women (WAW)
Jelena Bjelica, Co-director & Senior Analyst, Afghanistan Analysts Network
Dr. Ludwika Wlodek, Lecturer, University of Warsaw
About the Contributors:
Professor Michael Semple, Senator George J Mitchell Institute for Global Peace, Security and Justice works on innovative approaches to peace-making and engagement with militant Islamic movements in Afghanistan and South Asia. His interests include the political culture of the Afghan Taliban and kindred militant Islamic movements, the role and potential of dialogue and social media in conflict transformation, and the challenge of pluralism in the post 9/11 Muslim world.
Professor Semple worked as a political officer in the United Nations team which helped to implement the Bonn Accord on Afghanistan after 2001 and served as Deputy EU Special Representative in the country. He continues to advise governments and parties involved in the Afghan peace process, at a senior level, informed by his ongoing research. He collaborates with international peace-related NGOs and think tanks, and engages with policy makers. He is active in the public and policy debate around conflict transformations and Afghanistan.
Wazhma Frogh is a peacebuilding expert from Afghanistan with over 10 years of direct mediation and conflict resolution. The President of Afghanistan appointed her on the country's High Peace Council to mediate the peace negotiations with the Taleban during 2017 and 2018. She along with other key mediators initiated the first National Dialogue in Afghanistan that contributed towards the historical three-day ceasefire by the Taleban.
In 2012, Wazhma founded Women & Peace Studies Organization that advises the government negotiation team on the perspectives of communities and implements local community based peacebuilding initiatives in Afghanistan led by women. She has also carried out a number of dispute resolution practices resolving disputes around water, land and other resources between communities. The 2017 Women Peacebuilding Fellow at the Kroc Institute for Peace and Justice, Wazhma collaborated on a localization initiative to institutionalize women's perspectives around UNSCR 1325 & WPS agenda with local women groups and international partners, at the University of San Diego in California.
Wazhma has been extensively trained in dialogue and mediation at the Uppsala Department of Peace and Conflict in Sweden, Folke Bennoditte Academy of Women Peacebuilders & Mediators, practiced along with the peacebuilders and mediators from Philippines and Cambodia in Seam Reap, Cambodia and later in Nepal. Wazhma's focus has been on women's engagement in mediation and peace making at the Women & Public Policy at the School of government at Harvard University. As a member of the Women Waging Peace Network and Women's Alliance for Security Leadership she engages with global mediation practices along with other women peace builders. Wazhma has focused some of her field work on Traditional Dispute Resolution Mechanisms along with Human Rights Watch and documentation of the local conflicts in Afghanistan that provided the context and foundation for the government's first Traditional Dispute Resolution Mechanisms Law. Wazhma has written extensively on Afghanistan peace and negotiations challenges and dynamics. From 2016-2018, she was elected co-chair of the Women, Peace and Security Working Group for the implementation of the National Action Plan on U.N. Security Council Resolution 1325, a joint platform of UNWOMEN, international community & Afghan government. She participated in Afghanistan-Pakistan track 1 and 2 dialogues as part of the Afghanistan Peace process.
Wazhma is a post graduate of International Law from the University of Warwick in England and the American University of Afghanistan.
Kevin Schumacher is Deputy Executive Director, Women for Afghan Women (WAW). Kevin joined Women for Afghan Women in December 2016. As Deputy Executive Director, he works closely with the program and operations team in Afghanistan, supports the Finance, Communications, and Development teams in our New York Headquarters, and interfaces with WAW donors, partner organizations, and other stakeholders. He has close to 20 years of experience in grassroots organizing, human rights documentation, political research, sexual rights, and gender equality advocacy, refugee assistance, media outreach, and safety and security training. He formerly served as the Regional Program Coordinator for the Middle East and North Africa at OutRight Action International, an international human rights advocacy group. From 2006 to 2009, Kevin served as the Communications' Coordinator for the same organization. Prior to joining OutRight, he worked at the Fellowship of Reconciliation, an interfaith peace and social justice organization, as the Coordinator for Iran and Iraq. Kevin is bilingual in Farsi and English, has an advanced comprehension of Standard Arabic, and has a basic understanding of Turkish. He has an M.A. in International Relations from the National University, Teheran, Iran, and an M.A in International Peace Studies from the University of Notre Dame.
Founded in April 2001 to come to the aid of Afghan women then living under the Taliban, Women for Afghan Women (WAW) grew from a small network of volunteers to become the largest women's organization in Afghanistan. Over these past two decades, WAW has expanded to provide life-changing services, education, and vocational training for our clients across Afghanistan and in the United States (US) who have endured rights violations. The key to our enduring impact has been that WAW hires locally and uses a bottom-up approach, local knowledge, and a deep understanding of and sensitivity to local culture, traditions, customs, and challenges. Pragmatically, this approach and operational model manifested into core programs and services in Afghanistan and the US that have served to meet the needs of over 8,000 clients every year. For more information: https://womenforafghanwomen.org/
Jelena Bjelica joined the Afghanistan Analysts Network as an analyst in October 2015 and she was elected by the AAN General Assembly as a co-director in November 2019. Between 2010 and 2014, she worked with the United Nations Office on Drugs and Crime (UNODC) in Afghanistan and later with the Afghanistan Center at Kabul University (ACKU). Before joining the UN, Jelena worked as journalist. She spent ten years covering Kosovo, Macedonia and South Serbia regions, for a number of publications from southeastern and central Europe, including establishing a Serbian language fortnightly newspaper in Prishtina, Kosovo. She has published two books on human trafficking and organised criminal networks in the Balkans and Central Europe. In 2003 she received the Reporters Without Borders' Press Freedom Award for her reporting on human trafficking in the Balkans. Her academic publications have also looked at organised crime and the subversion of international aid. Jelena holds an MA in journalism from Cardiff University. She has published in Serbian, French, Albanian and English.
The Afghanistan Analysts Network (AAN) is an independent non-profit policy research organisation. It aims to bring together the knowledge, experience and drive of a researchers, analysts and experts to better inform policy and to increase the understanding of Afghan realities. It is driven by engagement and curiosity and is committed to producing analysis on Afghanistan and its region, which is independent, of high quality and research-based. We are committed to be bi-taraf but not bi-tafawut – impartial, but not indifferent. Since its establishment in 2009, AAN's publications have informed and influenced the work of Afghan and international policymakers, journalists, development workers and academics and others interested in Afghanistan and its region. AAN's analysts are regularly asked to speak at conferences and briefings around the world, and frequently appear as commentators in the media. For more information see https://www.afghanistan-analysts.org/en/
Dr. Ludwika Włodek has been a lecturer at Centre for East European Studies at the University of Warsaw since 2011 and manages the "Central Asia" specialization. In 2007, she defended her Doctorate at the Institute of Philosophy and Sociology of the Polish Academy of Sciences. Her thesis was entitled "State and Nation in the Ideological Offer of Politicians. (Concepts of the leaders of the Tajik political scene in 1991-2004). She completed her Doctoral studies at the School of Social Sciences at IFiS PAN (2001-2005) and MA studies at the Institute of International Relations at the Institute of International Relations, University of Warsaw (1995-2001). Dr. Włodek is also a publicist and journalist, author of reports from Iran, Afghanistan, Abkhazia, India, Russia and Central Asia, published in "Gazeta Wyborcza", "Polityka", "Nowa Europa Wschodnia", "Oko.Press". She published the following books: "Pra. About the Iwaszkiewicz family " (2012), "Just Cross the River. Reportages from Central Asia" (2014), "For banners, one address.Stories from Spisz borderland" (2017), "The inferior children of the Republic. About Algerians in France" (2020).