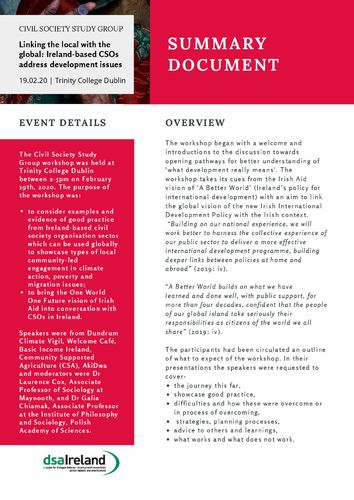 PDF 1.69mb
Download Now
Summary Discussion Document from DSAI Civil Society Study Group Workshop
This Civil Society Study Group workshop was held at Trinity College Dublin between 2-5pm on February 19th, 2020. The purpose of the workshop was:
to consider examples and evidence of good practice from Ireland-based civil society organisation sector which can be used globally to showcase types of local community-led engagement in climate action, poverty and migration issues
to bring the One World One Future vision of Irish Aid into conversation with CSOs in Ireland.
Speakers were from Dundrum Climate Vigil, Welcome Café, Basic Income Ireland, Community Supported Agriculture (CSA), AkiDwa and moderators were Dr Laurence Cox, Associate Professor of Sociology at Maynooth, and Dr Galia Chiamak, Associate Professor at the Institute of Philosophy and Sociology, Polish Academy of Sciences.