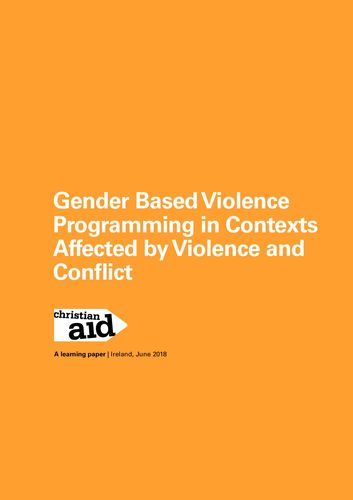 PDF 485.29k
Download Now
Learning Paper from DSAI Institutional Member Christian Aid.
Convenor of the DSAI Adaptive Progamming Study Group, Gráinne Kilcullen, is a programme adviser for governance and human rights with Christian Aid Ireland, an international development agency working with local partners in over 40 countries worldwide.
She shares this Learning Paper published by Christian Aid on Gender Based Violence Programming in Contexts Affected by Violence and Conflict. The paper explores the breadth of Christian Aid's work on combatting GBV in different contexts and analyses programming practices across Nicaragua, Colombia, Democratic Republic of Congo (DRC), Myanmar and Zimbabwe. A partner peer learning event was held in Dublin, December 2017, which validated the key learnings and recommended the ecological framework.