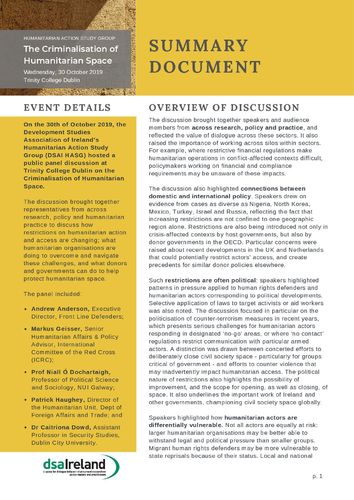 PDF 504.67k
Download Now
Discussion Document from DSAI Humanitarian Action Study Group
On the 30th of October 2019, the Development Studies Association of Ireland's Humanitarian Action Study Group (HASG) hosted a public panel discussion at Trinity College Dublin on the Criminalisation of Humanitarian Space.
The discussion brought together representatives from across research, policy and humanitarian practice to discuss how restrictions on humanitarian action and access are changing; what humanitarian organisations are doing to overcome and navigate these challenges, and what donors and governments can do to help protect humanitarian space.
The panel included:
Andrew Anderson, Executive Director, Front Line Defenders;
Markus Geisser, Senior Humanitarian Affairs & Policy Advisor, International Committee of the Red Cross (ICRC);
Prof Niall Ó Dochartaigh, Professor of Political Science and Sociology, NUI Galway;
Patrick Haughey, Director of the Humanitarian Unit, Dept of Foreign Affairs and Trade; and
Dr Caitriona Dowd, Assistant Professor in Security Studies, Dublin City University.
Among other things, the discussions highlighted connections between domestic and international policy. Speakers drew on evidence from cases as diverse as Nigeria, North Korea, Mexico, Turkey, Israel and Russia, reflecting the fact that increasing restrictions are not confined to one geographic region alone.