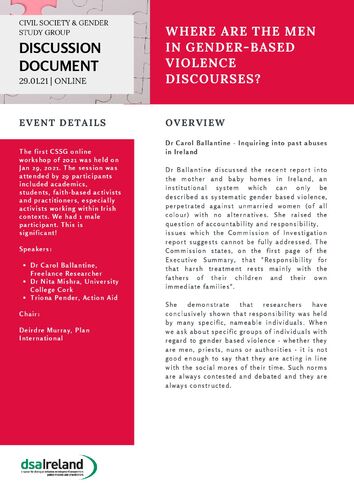 PDF 3.08mb
Download Now
Discussion Document and associated resouces from this online event organised by the Gender Study Group & Civil Society Study Group, and held on 29th January 2021.
Agenda and Contributors:
1.00pm Welcome & Introductions by Chair Deirdre Murray (Plan-International)
1.05pm Field narratives from India, Dr Nita Mishra (UCC)
1.15pm Inquiring into past abuses in Ireland, Carol Ballantine (NUIG)
1.25pm Behaviour analysis in Communities, Triona Pender (Action Aid)
1.35pm Discussions
1.55pm Thanks and Close
Watchback:
Watch Part I - Contributors Presentations here.
Watch Part II - Discussion here.
Related Resources: