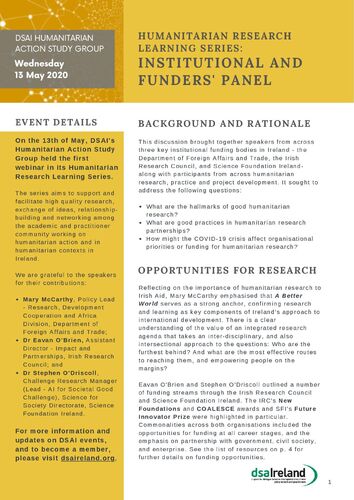 PDF 328.26k
Download Now
On the 13th of May, DSAI's Humanitarian Action Study Group (HASG) held the first webinar in its Humanitarian Research Learning Series. The series aims to support and facilitate high quality research, exchange of ideas, relationship building and networking among the academic and practitioner community working on humanitarian action and in humanitarian contexts in Ireland. This discussion brought together speakers from across three key institutional funding bodies in Ireland - the Department of Foreign Affairs and Trade, the Irish Research Council, and Science Foundation Ireland along with participants from across humanitarian research, practice and project development to consider:
What are the hallmarks of good humanitarian research?
What are good practices in humanitarian research partnerships?
How might the COVID-19 crisis affect organisational priorities or funding for humanitarian research?
Find out more about the Humanitarion Action Study Group here